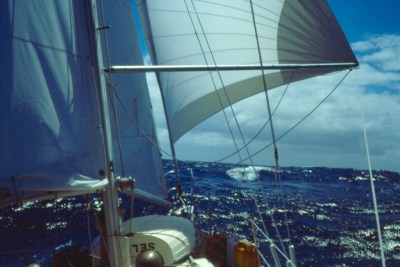 "Selene" underway
"Confessions of a Long-Distance sailor"
Copyright © 1991 — 2005,
P. Lutus
An account of an around-the-world solo sail in a 31-foot boat, 1988-1991
BOOK LOVERS: This e-book is free and will remain so. However, in response to many who have requested a printed copy, I have arranged for it to be published as a paperback:
Notes
This is a complete, online e-book — an account of my solo around-the-world sail. Select chapters using the drop-down lists, or click the arrows, at the top and bottom of your browser's display. I hope you enjoy reading about my adventures. This page set was entirely reformatted and revised in October 2006. The ZIP file contains the new version. Download "Confessions" in ZIP form (1.3 MB) for offline reading. Download "Confessions" in Kindle / e-book form (1.4 MB) for offline reading.

Visit my gallery of sailing pictures.
Comments by readers of "Confessions":
[ in a review of "Maiden Voyage" by Tania Aebi posted at amazon.com ] I would recommend "Confessions of a Long Distance Sailor" by Paul Lutus instead of this book. It's written far better, has just as many aventures, is far more education in a worldly and sailing sense, and best of all, it's free.

— Chad Lawie

I'm about 55 pages into your book and wanted to tell you it is very good — charming, honest, insightful, a fine, fine story. You should really feel good about it.

— Sam Hill, author of five novels, http://www.samhillonline.com

I have been touched on many levels by your wonderful story. Of course I knew nothing else about you other than the fact that you did what so many of us think we would love to do. I have interrupted my wife's quiet reverie countless times to read aloud a few words that you wrote. Apart from all your other wonderful accomplishments, thank you for this one.

— Tim Sperry

I just finished reading "Confessions." Thanks for writing it and making it available for free. I especially enjoyed all the philosophical and scientific tangents you go off on, while keeping everything somehow related to the sea. The last few days, I even had dreams of being on a boat.

If I have half as many interesting experiences as you've had by the time i'm your age, i'll be a happy man.

— William MacKay

I just wanted to thank you for writing such a wonderful book about your circumnavigation ... marvelous!

— Marv Paulie

I have started to read your "Confessions" ... I am amazed and inspired.

— Arlette Krampe