Coghill Lake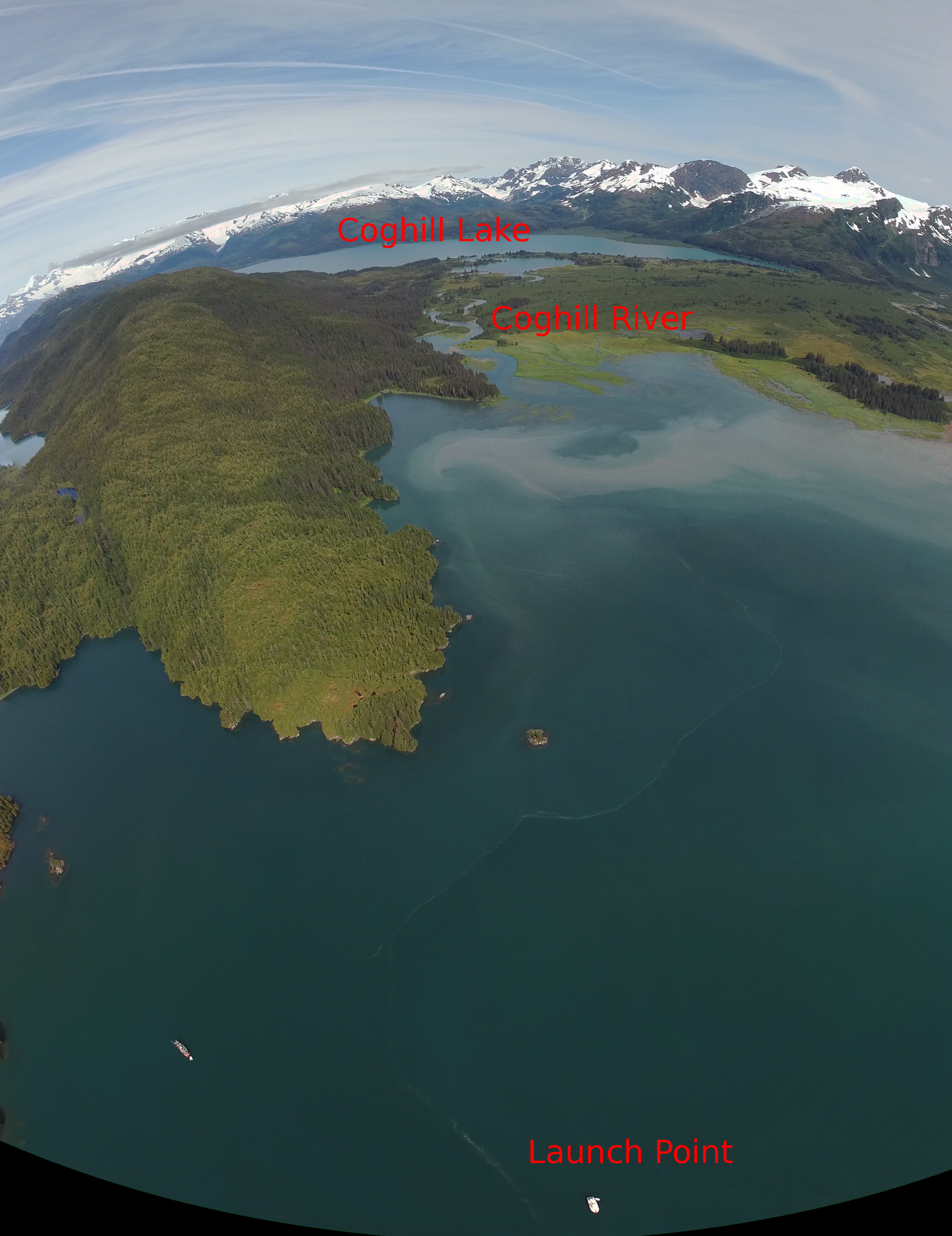 Coghill River route panorama looking NE (click image for full size)
Many years ago I sailed up College Fjord and anchored at Coghill Point (located along College Fjord in Prince William Sound). It turns out there is a trail alongside the river that leads up to Coghill Lake, but I find it one of the worst, most frustrating trails ever built — lots of up and down, twist and turn. After a few years of hiking the trail and thinking how much more pleasant it would be to simply paddle Coghill River, I finally worked up the courage to try to paddle my kayak against the current, upstream along the river. I found that I could paddle certain sections, but I had to get out and drag my kayak through the faster stretches or along the shore. Still, it was a much nicer experience than hiking the stupid trail, and, when I got to the lake, having brought my own boat I could explore there as well, so I was able to explore a lot more country than possible from the trail.
So, for a number of years I've been abusing my kayak by dragging and paddling it along the river to Coghill Lake. This inexcusable abuse of nice equipment explains why I have to replace my kayaks so often — a kevlar kayak is a very nice piece of equipment, but they're rather fragile and very displeased with the prospect of being dragged along the ground, across gravel bars, and being generally bashed and banged by their thoughtless owners. The result of this kind of abuse is that I have to buy a new kayak about every five years, usually at the point where ... how shall I put this? ... the kayak's hull can't keep water out any more.
When I paddle this river I sometimes encounter large runs of salmon making their way upriver to their ancient spawning grounds. If they're swimming fast I can feel their motions through the relatively thin hull of my kayak. This gives me a nice sense of being part of the river and the migration.
I packed my drone into the kayak for this outing and took some photospheres (from which the above panorama was extracted). Here are links to the full photospheres and some words of explanation:
Coghill Point anchorage — my boat is visible straight down, and Coghill River is to the NE.
Coghill River — this photosphere gives a sense of the terrain along the river.
Coghill Lake — a nice destination for a kayak outing. Notice the fish ladder and the parked airplane along the river to the SW.
This part of College Fjord is pretty wild, even by Alaska standards for wildness. It's not at all easy to get to and the weather is particularly tricky because of the nearby glaciers and consequent risk of williwaws. I would give this place a wildness index of 7 (need I add that higher numbers are better).
Readers may notice the light-green water color seen in some of the photospheres — that's caused by glacial till, a fine powder that, were it dry, would have the consistency of flour. It comes down from the glaciers and, because of the small particle size, remains suspended in the water for a long time.
Navigate this article set with the arrows and drop-down menus at the top and bottom of the pages.